During my education I have learnt to work in both Unity and MAYA, developing mini-games and creating 3D models. I really had a blast doing this and only wish I was in the very beginning of my career path!
I would love to learn more and continue to develop my skills as a 3D-artist and game-designer and creator.
Below are a few screenshots of my games.
---
Sunflower Farm Race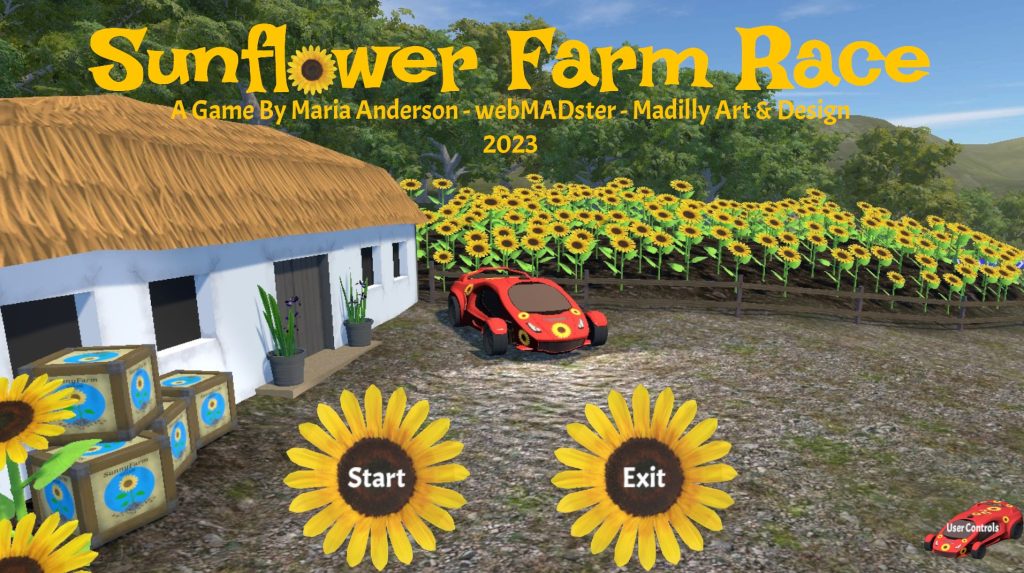 My latest game is a 3D game. A lot of the gameprops where created by me in MAYA and Gimp, while some where imported and modified. The goal of the game is to race as fast as possible back to the barn while picking up all of the crates the delivery truck dropped on the way.
Flappy Bee
This is a sidescroller 2D game, similar to the classic Flappy Bird. Avoid cloud-twisters and rockformations while getting as high of a score as possible while picking up stars and feeding on the flowers.
Roll a ball – beach frenzie
My first game ever made was a classic roll-a-ball theme.
---
I have also worked in GIMP, drawing my own UV-maps, and editing the UV-map of the car, and in Audicity to make and edit some of the sound effects.
---
My next goal is to learn Blender and to learn to animate first person characters in a cool way. I have endless ideas sparking through my mind. Although it is challenging, programming is also very rewarding. The feeling as you solve a challenging task and make things work as intended can not compare to much else. I have really loved working in MAYA, seeing my visions take shape.
Since I love flowers and gardening about as much as creating things, I have had a vision of learning to create in VR/AR and make an awesome garden where flowers can grow and shrubs bloom and you can plant things and see them fill their space…
Well, needless to say maybe, that I am not there yet, but creating flowers in MAYA has been great fun indeed! One day I would also like to take a class about drawing/coloring wild flowers in detail. It is a step closer to creating that 3D garden I am envisioning working in as I one day retire and my body gives in and refuses to do all of the heavy real-life-gardening. By then I might even could smell the flowers and soil in my virtual garden.